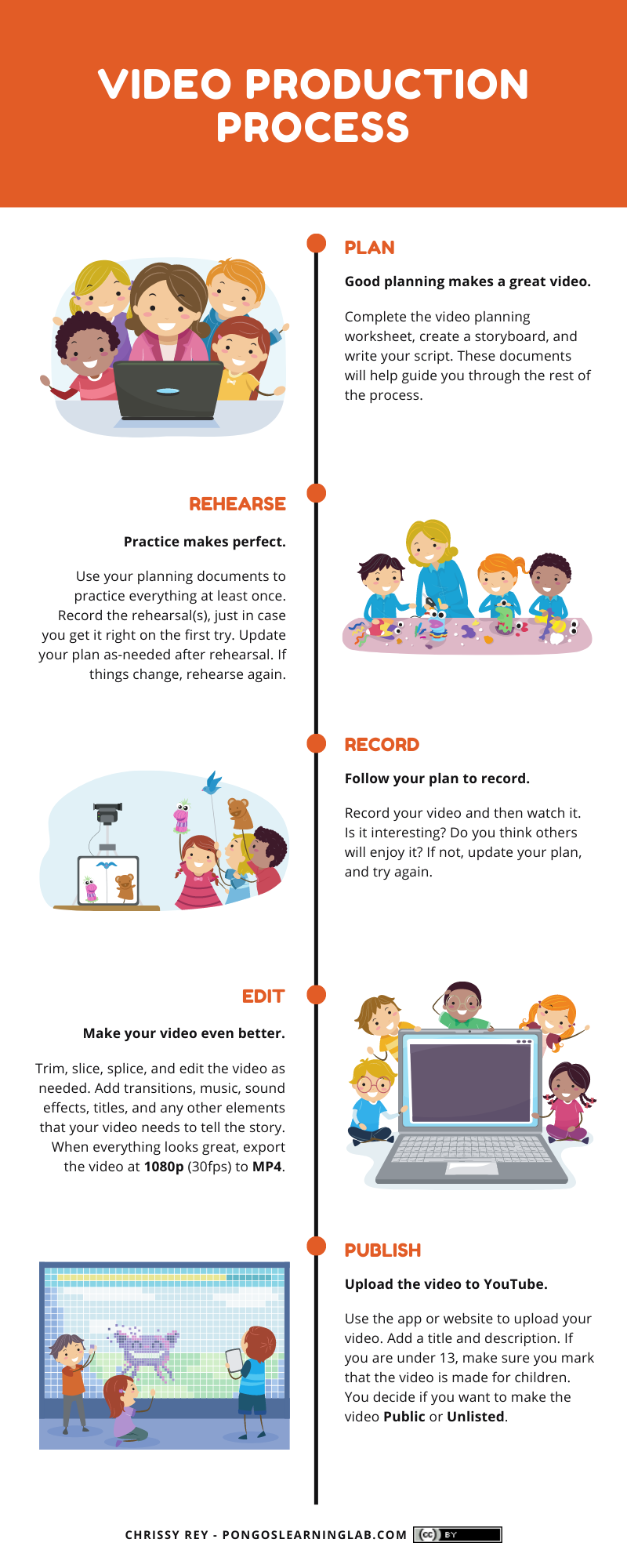 Instructional Strategy
This infographic is used in the Challenge Video and Advanced Video Planning lessons of the YouTube Stars program at Pongos Learning Lab. We use the infographic during those two lessons to summarize the 5-step process (plan, rehearse, record, edit, and publish) we follow to create engaging video content.
The Challenge Video lesson of the YouTube Stars program introduces students to the 5-step video production process. Many students come to the program thinking they can just "start recording" to instantly become a YouTube Star. They don't yet know about the planning and other steps that are required to create interesting and engaging content for their channels, so we introduce them to the process. During this lesson, students plan and record a challenge video. Because of the nature of challenge videos, rehearsal is optional for this lesson. Students edit and publish their videos in the next lesson, Using KineMaster.
During the Advanced Video Planning lesson we take a closer look at the planning required to create a great video. Students learn how to complete a video planning worksheet, create a storyboard, and write a script for their videos. We also revisit the other steps in the process, and encourage students to follow the entire process as they plan, rehearse, record, edit (with KineMaster), and publish an "advanced" video such as a skit, toy/product review, public service announcement, or how-to demonstration.
License
Video Production Process
by
Chrissy Rey
is licensed under a
Creative Commons Attribution 4.0 International License
.
Digital Media Checklist
Digital-Media-Checklist-Video-Production-Process-1